Winter is here! As the temperature cools down icy nights call for piping hot meals to fill hungry bellies. Back in season are family favourites like sweet butternut pumpkins - perfect for warm soups accompanied by crusty bread or even simply roasted drizzled with honey. Here is a fun fact to intrigue your dinner table; butternut pumpkins are related to cucumbers and melons.
Kiwifruit
Winter also means the much anticipated return of kiwifruit! Kiwis make for the perfect lunchbox snack and are a nutritional gem. Kiwifruit are a fantastic source of vitamin C, vitamin K, vitamin E, folate and potassium. If you love kiwifruit, make sure you try all three varieties this season; green, red and gold - just like a set of traffic lights!
A mere 40g of gold kiwifruit contains a day's recommended intake of vitamin C! Yellow- fleshed kiwifruit is juicy and sweet with a tender golden-yellow flesh. It's slightly elongated in shape and simply delicious, so keep an eye out for it at your local greengrocer. Red-fleshed kiwifruit is a sweet and utterly irresistible new arrival to the market. Its green and red flesh has an attractive star pattern in the centre. Make sure your kiwifruit is nice and soft before eating. Leave firm kiwifruit to ripen at room temperature but make sure to keep them away from apples. Close proximity to apples causes kiwifruits to ripen too quickly.
Apples
Speaking of apples, we all know the winter apple classics such as pies, crumbles and tarts, but have you ever tried popping some slices in with a pork cutlet? Cut through the salty flavour with the sweetness of an apple for a savoury winter delight. Apples are also a great source of dietary fibre and are a great source of vitamin C, which helps to keep our gums, teeth, bones, cartilage and skin healthy. So, fill your fruit bowl with them or pop them in the kid's lunch box for a delicious and healthy snack.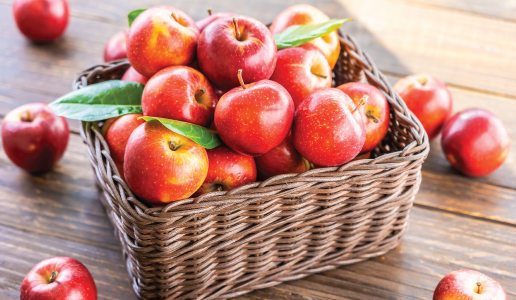 Spinach
Back in season this winter, spinach is rich in an antioxidant called lutein which is important for eye health. Spinach is also an excellent source of dietary fibre. Get a bit creative with your spinach this winter, instead of tossing it through a salad or simply sautéed with garlic, why not whip up a spinach and ricotta pie, fold some leaves through a lasagne or even take your taste buds to India with a Palak paneer curry? These dishes are also a great way to smuggles this leafy green into a little one's diet. Yum!
You can find even more delicious ideas highlighting seasonal produce on our winter recipes page!
< Back to blog