Premier's Sporting Challenge

To live a healthy lifestyle, we can't just eat fresh, we also have to get active! Fresh for Kids is the major sponsor of the NSW Premier's Sporting Challenge (PSC).
The PSC is a NSW Government initiative that encourages students from Kindergarten to Year 12 to increase their participation in sport and physical activity and to lead healthy, active lifestyles.
The PSC is a multi-faceted program with one common purpose: to get students, more active, more often.
The program began in 2008, with 400 schools and 78,000 students taking part in the 10 Week Physical Activity Challenge. In 2017, the PSC celebrated its tenth year with over 400,000 students from more than 1,600 schools participating, as well as over 9,000 teaching staff.
Programs offered by the NSW Premier's Sporting Challenge include:
10 Week Physical Activity Challengewhich encourages students and staff over a 10 week period to participate in a broad range of sports and recreational pursuits and to develop their understanding of the importance of physical activity.
Sport Leadership which supports schools to prepare students for active roles in sport and physical activity programs through the development of their leadership skills.
Ambassador visitswhich support schools participating in the physical activity challenge and involves an elite group of athletes with representation at Olympic, Paralympic or National level in their respective individual or team sport.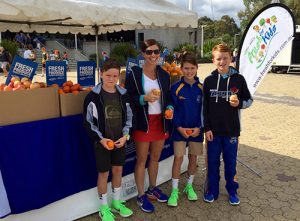 Of course, the best way to refuel and recharge after exercise is with healthy snacks – no greater than fresh fruit and vegetables!
To register your school for the Premier's Sporting Challenge, click here: